Our first launch team photo, Jan 2022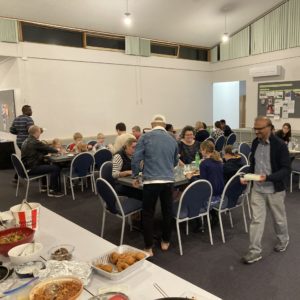 Launch team dinner, June 2022
Proclaim Anglican Church was planted from Berwick Anglican Church at the beginning of February, 2023. The Senior Pastor of Proclaim, Reece Kelly, began to feel the call to plant into Clyde North when he and his family moved into the City of Casey in 2015. The sending church in Berwick had explored plans to plant a church in the lead up to Proclaim, but various obstacles made it clear the time was not right. Meanwhile, the growth in Casey showed no signs of slowing down. The Census data shows that from 2016 until 2022, Clyde and Clyde North had grown from 8,000 people, to over 40,000 people, in just 5 years. It was evident that a church needed to be planted, because in the 40,000 people in Clyde and Clyde North, there was not one church building in the suburb.
In 2020 and 2021 COVID hit Melbourne pretty hard. Lockdowns were in force, but this did not stop the growth of the City of Casey, or the heart of the growth in the South Eastern Growth Corridor of Melbourne, Clyde North. During the long 2021 lockdown the ministry team at Berwick Anglican attended an online seminar. At the end of the seminar the speaker challenged churches that maybe God is calling churches to plant out of COVID. The ministry team felt that it was confirmed, and the planning to plant began in mid 2021.
Prayer and planning meeting, November 2022
End of Year Celebration, December 2022
Reece began training with City to City Australia from July 2021, enrolling in the Residency program, and the City to City Planting Intensive. On 16th November at the Berwick Anglican Church annual meeting (still in lockdown), it was announced that Reece would be preparing and planning to plant a team of 50 people from Berwick Anglican Church, to begin St Paul's Anglican Church (known as Proclaim Anglican Church) in Clyde North.
During 2022 a launch team was formed, and began meeting together on Thursday nights to pray, plan, prepare, and learn from God's Word together. Over this time, God graciously brought the 50 people needed to plant Proclaim, and the starting date of Sunday 5th February 2023 was confirmed.
On 1st February 2023, Bishop Paul Barker commissioned Reece as Priest in Charge of Proclaim, and they had their first official Sunday service at 9am at Eliston Family and Community Centre, Clyde.
It is our prayer that as Proclaim grows, so to will the finances and the possibility of having our own building to call home in Clyde North.
Christmas Service Soft Launch, December 2022
Some of the team being commissioned from Berwick Anglican Church, January 2023
Why Proclaim Anglican Church Clyde North?
Our church is called Proclaim, which is taken from Colossians 1:28 – "Him we proclaim, warning everyone and teaching everyone with all wisdom, that we may present everyone mature in Christ." This is the call that our church feels. Our mission and vision is to be a Gospel-centred, Word focused, community, on mission together. And Colossians 1:28 shows us how to do this. We proclaim Jesus, warning and teaching everyone with wisdom, and aiming for mature disciples who are making disciples.
Why St Paul's Anglican Church Clyde North?
There used to be a little Anglican country church in Clyde North. The building was small, the toilet was a drop dunny, and there was a pedal organ in the corner. The building held around 15-20 people, and would meet once a month at 2pm. In 1999 the Melbourne Diocese decided it was time to close this church, as there were only 5 or so people attending the monthly service.
A custom of the Melbourne Diocese is to call churches after Saints. In honour of the little Anglican church that used to meet in Clyde North, we decided to formally take on the same name. But more than this, reusing the name of St Paul's for our church shows us one important point: whilst the church may have shut down for a time, the Gospel never left Clyde and Clyde North. And with St Paul's Anglican Church meeting again, the Gospel presence was not lost. It is back, and we are keen to have our Gospel presence known again!